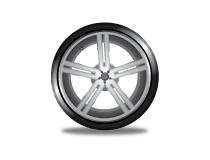 Tires are important and expensive assets of every truck that have to be replaced periodically; taking good care of them will reduce the cost of operation and will improve safety driving conditions helping to reduce accidents. The key issue is being able to run the trucks with the appropriate tire pressure. This will also reflect in better fuel rate consumption.
M2M Integration with compatible tire pressure monitoring devices will improve the complete productivity of fleet operation.
Some benefits of this integration are:
» Receive real-time alerts with accurate tire pressure when limits are above the standard thresholds
» Increase tires life due to less tread wear
» Improve safe driving conditions.
» Have better fuel consumption rate of your truck.
How does it work?
M2M GPS tracking devices easily integrates through the RS232 port with third party tire pressure monitors devices and send all data to control centers. M2M Gateway is already integrated with certain tire manufacturers of pressure monitor devices and will process and display this data to be ready to be analyzed by fleet operators.