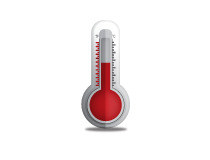 Monitoring of temperature during transportation is becoming an important requirement for fleet operators taking care of perishable sensitive goods. Being able to monitor temperature and location information at the same time is mandatory for many industries; in fact the temperature monitor system is a standard specification item that is frequently required to be implemented. M2M integration with external interfaces and temperature sensors allow temperature 'real-time' monitoring and recording to facilitate the automatic collection of critical data. Alerts and notifications may be triggered according to set thresholds to make sure perishable or temperature sensible merchandise is kept under proper temperature conditions.
Related services to telemetry-temperature monitoring:
» Get instant alerts and notifications when critical temperature threshold have been reached
» Record complete trip temperature history logs
» Generate temperature graphic analysis charts
» Remotely manage emergency temperature conditions
» Generate exemption reports based on preconfigured temperature limits
How does it work?
DCT has developed temperature sensors to allow tracking service providers to monitor the quality and condition of sensitive goods. The sensors are connected to the M2M GPS tracking device through the RS232 port. Up to 3 different sensors can simultaneously capture the temperature from different environments. Preconfigured thresholds are possible to be defined and associated to generate automatic triggered events. All captured data is sent to control centers for further processing and analysis. The optional use of M2M Gateway also makes temperature data analysis simple.
Results:
Monitor, analyze and evaluate all parameters of fleet performance related to temperature sensible goods transport and logistics.