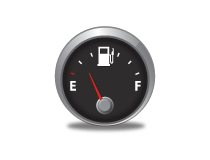 Fuel is the most critical variable, which affects the operational cost of a fleet. This cost if unfortunately on the rise most of the time as a price for a gallon of gas continues to climb. Fleet owners are constantly looking forward for alternative ways to reduce unnecessary fuel consumption and in some cases stop fuel from being stolen. M2M can be integrated in different ways to monitor fuel consumption using its ADC (analog to digital converter) interface, 1-Wire® or RS232 ports to interact with external fuel sensors, analog interface modules, ECU (engine control unit) Monitor with CAN protocols J1939/1708 and other third party devices.
M2M integration with fuel monitoring sensors provides important info such as:
» Report, track and control the amount of fuel that has been filled in the tank
» Monitor the amount of fuel left on the tank and instant fuel consumption
» Trigger alerts based on thresholds when fuel level drops and provide GPS coordinates for the exact location of tamper incident
» Keep records of accurate Miles per Gallon (MPG) and match with vehicle's manufacturers suggested fuel consumption metrics
» Calculate the exact cost per mile
How does it work?
M2M GPS tracking device is integrated with DCT's intelligent reporting ECU Monitor. This external device is manufactured by DCT and wired through the 1-Wire communication port providing data readings directly from the onboard computer using CAN J1939/J1708/J1587 protocols. This information is processed by the M2M and then transmitted to third party servers or fully analyzed and arranged for friendly use by the M2M Gateway platform.
Other integrations with third party devices are also supported through either the RS232 or ADC port.
Results:
Save, control and monitor fuel cost and effectively stop fuel from being stolen.